Bakery Initiatives Group held another two-week series of training, about modern bakery practices and techniques, to help bakers in Nigeria run bakeries profitably.
The series of trainings, which had over 50 participants benefitting, included a 'train the trainers' programme conducted by Jacob Molenaar, co-founder and expert baker with more than 35 years experience in bakery and milling technology. Participants have described the programme as valuable beyond their expectation.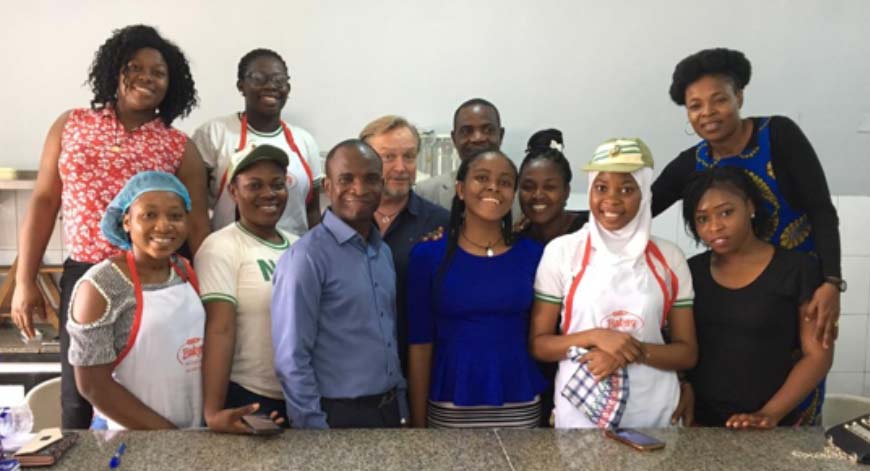 Pool of knowledgeable people in Nigeria
At the 'train the trainers' program, Mr. Molenaar told participants that the essence of the program is not only to increase the theoretical and practical knowledge of participants in the bakery and confectionary industry, but also equip them to be able to transfer such knowledge to others. Thereby creating a large pool of knowledgeable people in Nigeria.
The training program saw the participants trained on various aspects of bakery, such as technology and practice of baking of bread, cakes and pastries with special emphasis on recipes, effects of basic ingredients and cost calculations.
Thrilled by the new insights
On her experience during the training, Fibian Ehizibolo said: "I was thrilled not only by the exposure to the new insights about baking various products but also how different ingredients can be utilized to achieve a desired effect in the finished products".
The training program which is a continuation of Bakery Initiatives Group's intervention in Nigeria began last year and so far, more than 120 bakers have benefited from the trainings.
In the coming months we will be holding another series of training in Lagos, Nigeria. Send us a message with your details if you are interested!